Australians love good food, whether it's high-end, fine dining or a more casual environment with fabulous, finger-licking enjoyment. To get them to make the most of your restaurant's delicious offerings, however, you have to first get them into the place or finding you online so that they can order a delivery, which is particularly important now because of the COVID-19/Coronavirus social distancing rules. That means marketing, and luckily social media has made it easier to get eyes on your business than in the past. So without further ado, here's how to market a restaurant on social media.
What the Numbers Say
Statistics show social media is key to reaching large numbers of people. Around 18 million Australians have active social media accounts, according to We Are Social and Hootsuite. That's 72% of the population, and the number grows daily. Here's how to market a restaurant on social media to optimise its value.
Choose the Right Platforms
Facebook was the most-used network in 2019, followed by Instagram and What's App messaging platform. That doesn't mean you should rule out the other major social media platforms, though. Ultimately, your choice of network depends on where your target customers hang out, too, so if you're running an eatery or food delivery service aimed at the younger set, you might want to consider sites like Tik Tok and Snapchat.
For most brick and mortar restaurants, however, their target market is upscale diners, family groups, boomers, millennials and young professionals. The best social media sites to reach this audience are as follows:
#1: Facebook
It's an easy task to create a business page for your restaurant on Facebook. In fact, it's one of the first places customers look for updated business information, changes to business hours, special offers and events. Many restaurants keep their Facebook page more up-to-date than their website it, simply because so many people use it.
If you have a restaurant with more than one location, it might serve your marketing plan well to create a Facebook page for each venue. This allows you to list news specific to each location without causing confusion. Just make sure each page indicates that there are other pages, too, and list them all on your website so customers know where to look for the info they need.
Fill out your page information as comprehensively as possible. The more detail there is, the more followers you'll generate. That means more people to market your venue to.
#2: Instagram
With a following almost as big as Facebook, Instagram is rapidly gaining ground as the site to share quality photos and experiences. Your restaurant's Instagram presence needs to serve two purposes:
Promoting your food and the dining experience you offer in an attractive visual way, and
Giving your customers a platform where they can share their own experiences of your offering with others.
Recording "Instagrammable" moments has become a major pastime for diners of many age groups, and as long as your food and venue are attractive enough your guests will share them and invite others to view their posts on Instagram. By having your own account, other users can tag you so that their posts show up in your results as well as theirs.
#3: Twitter
Twitter is the place to be if you want to be a part of the conversation about food, the restaurant industry, or your venue. It's a large, group discussion that anyone can join, and it's no longer a "nice to have" but an essential. It's a free, easy-to-use source of promotion and customer service, and it allows you to follow competitors to get an idea of what they are up to, too.
Best practices for tweeting effectively include following and responding to other users, tweeting frequently, and retweeting non-competing local businesses' posts so they retweet yours. One great advantage of Twitter is the rapid churn rate of tweets, which means you can repost the same tweet several times a day and reach new readers every time.
On Twitter, promote exclusive deals and discounts, offer incentives such as gift cards or coupons in return for feedback, and solicit input about speciality dishes. Deliver news about new menu items, address criticisms, and participate in foodie-related discussions so your posts aren't all about sales.
#4: Other Platforms
Other social media platforms to set up accounts on are YouTube (for videos), Pinterest, review sites like Yelp and TripAdvisor. It's best to share postings from these sites on Facebook, Instagram and Twitter because those are likely to reach your target audience. Claim your Google My Business page, too, which brings an added level of trust to your restaurant.
Post the Right Content
One of the most challenging aspects of how to market a restaurant on social media is finding and posting content. It's impossible to find something new to say about your offering every day, and it would bore your followers anyway. Luckily, there's a whole world of content options to explore, including:
Blog content: Publishing new posts on your blog offers multiple benefits for marketing. It gives you content you can share and drives traffic to your restaurant website.
Food photos: These are a popular type of imagery in the digital world. #Food, #foodporn, #instafood, and #yummy are amongst the top 100 most popular hashtags on Instagram. Run photo contests under these trending hashtags, which are already attached to almost 500 million images, making food the most photographed subject on the platform.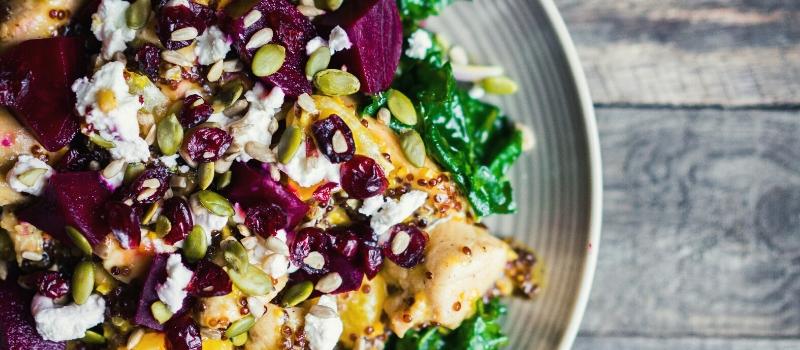 Curated content: This is filtered news, articles, videos and other content from around the web that is of interest to followers. Focus on anything food-related or local to your region. Share posts from local companies and non-competing businesses, which might encourage them to share your posts with their followers, too.
User-generated content: Remember those "Instagrammable" moments we mentioned earlier? Those are a great example of content generated by users and shared with your followers. You can do this in Twitter and Facebook posts and on other sites by inviting users to upload photos, comments, reviews, and video to your social media profiles. Don't forget, this not only gives you sharable material, but it also gets them engaged and builds your following when they share with their networks.
Trending topics: Adapt any current issue or popular news item to be relevant. Katy Perry's bushfire concert, for example, could be worth a mention in a post inviting diners to come and try out a "Katy Perry" special.
Event coverage: Not everyone can make it to events you hold, but that's no reason not to use them to promote your restaurant. Take photos or video of public events and post them on your social media profiles, tagging people you know and who follow you.
Staff and vendor spotlights: There are few people who don't want their 5 minutes of fame. Everyone else is perfectly happy to be featured on social networking pages. Spotlight workers on a rotation basis, highlight vendors your restaurant uses who do good things in the community and tag others who might be interested so they can share with their contacts.
Behind the scenes: Diners are always interested in getting a glimpse behind the scenes of their favourite restaurant. Film your chef making something special, provide a recipe for the most popular dish, or post photos of staff team building activities. It gives users a sense of belonging and helps you connect with them emotionally.
Promote check-ins on Facebook: Run a check-in promotion, or offer incentives such as free desserts for patrons who check-in and post updates while at your restaurant. This helps put your venue on the map and shows how many people have been there.
Loyalty programs: Develop a loyalty program that rewards diners for frequent visits, and promote it on social media. Allocate extra points for particular dishes, large groups and special functions, and post news whenever a diner achieves a milestone in the program.
Find out from customers when is the best time to reach them with social media postings, and optimize the timing of your updates. Review and monitor social analytics where possible to see how many people view posts, so you can identify ways to improve performance.
Advertising & Promotions
While social media for restaurants is free to use, you can get remarkable results by using paid options, too. Facebook ads work on a pay-per-click/pay-per-impression basis, and the platform has robust methods to geo-target users. This allows you to set specific parameters for people you want to reach with your ads, and since you only pay for ads that work, it's an affordable way to market a restaurant on social media.
Connecting with local influencers is also a great way to promote your venue. Identify people with a following in the community such as business owners, political leaders, and local celebrities. Offer them incentives to dine at your restaurant and ask them to post or tweet about their experience.
Generate Engagement
Getting people to engage with you means it's necessary to do your part, too. Follow others to get them to follow you, particularly on Twitter and Instagram. These could be suppliers, customers, staff, or social media influencers. Follow their updates, share, comment and engage with them, which will encourage them to do the same for you.
Invite reviews from diners by requesting them, or offering an incentive in exchange for an honest review. Respond to every comment and review you get because they are opportunities to show you care what customers think and say, and are prepared to take action.
These suggestions should give you a good idea of how to market a restaurant on social media, with options that are free or inexpensive to use. Time is the biggest investment you'll need to make in this type of digital marketing, but it is likely to pay off exceptionally well.