The Last PR Playbook you'll Ever Need
Introduction
You might think you know what public relations (PR) is, but the truth is it means vastly different things to different companies.
Public relations combines lots of linked tasks, including reputation management, influencer management, event planning, communications, media relations, crisis communications, social media and content marketing. It's complex, and no single public relations definition totally covers all that PR is as a whole.
Many definitions aren't even directly related to increasing business profits… so we've written our own PR definition! Public relations is a customer-centric, strategic approach to improving relationships (usually with customers) to increase sales from new and existing customers – which is exactly what your business needs to grow efficiently at a greater speed.
Gone are the days of spamming journalists and sending out generic press releases. It's time to put old-school PR tactics to bed and embrace building one-on-one relationships with influencers that drive your customers to take the steps you need them to.
Every professional and business person has heard of PR, but here's a little secret: if you asked them all "what is PR?" many would be completely stumped, while most would provide some vague answer about communications and media relations.
That's because most people don't really know what PR people do. They know we have an important role in marketing and branding, but if pressed, they can't quite put their finger on how we do what we do. If you're a little bit confused about the wizardry that is PR too, read on, because we've got the inside scoop – and a definitive answer to the question what is public relations?
The History of Public Relations
Many people think that public relations is a modern invention. The truth is, however, that the profession can trace its roots back to the very early 1900s in the United Kingdom.
Long before inappropriate Tweets were sinking careers, PR professionals were working their magic for artists, performers and business people.
What The Experts Say When Asked "What is PR?"
How could we explain what public relations is without including some awesome examples of what influential people throughout history think of PR?
Here are a collection of ten great quotes that help to capture what PR is all about:
#1 "Everything you do or say is public relations." – Unknown
#2 "If a young man tells his date how handsome, smart and successful he is – that's advertising. If the young man tells his date she's intelligent, looks lovely, and is a great conversationalist, he's saying the right things to the right person and that's marketing. If someone else tells the young woman how handsome, smart and successful her date is – that's PR." – H. Simmons
#3 "Public-relations specialists make flower arrangements of the facts, placing them so the wilted and less attractive petals are hidden by sturdy blooms." – Alan Harrington
#4 "It takes 20 years to build a reputation and five minutes to ruin it. If you think about that, you'll do things differently." – Warren Buffet
#5 "There is only one thing in the world worse than being talked about, and that is not being talked about at all." – Oscar Wilde
#6 "If you don't tell your story, someone else will." – Unknown
#7 "In a downturn, aggressive PR and communications strategy is" – Doug Leone, VC, Sequoia Capital – Silicon Alley Insider
#8 "If I was down to the last dollar of my marketing budget I'd spend it on PR!" – Bill Gates
#9 "Publicity is absolutely critical. A good PR story is infinitely more effective than a front page ad." – Richard Branson
#10 "Historically, PR, Marketing and Advertising budgets are the first to be cut; however, that could be one of the first mistakes a business makes in an economic crisis." – CBS Marketwatch
The problem with all things marketing (to the non-marketing person) is that much of it seems either mysterious or frankly, just made up. You only have to watch someone's eyes glaze over when you mention SEO or branding to know that they've zoned out and gone to their happy place, where marketing jargon doesn't interfere with their daily business.
Public relations is no different.
In fact, if you ask most people how they define public relations, the answer would be hazy at best. That's because most people don't even realise that PR is a distinct and different branch of marketing altogether. Of course, it doesn't help that even in the industry, those who do define public relations do so differently. Some differences are subtle, while others are not, but thank goodness there are at least a few common threads.

How PR is 'Officially' Defined
Public Relations, like many areas of marketing communications, spans a fairly broad spectrum of tasks and activities, so it's no surprise that most people have a slightly different definition of what it is, exactly. We've collected six definitions published by various international PR organisations and associations that all capture something special about this often misunderstood branch of marketing.
---
The definition of public relations used by Public Relations Institute of Australia (PRIA) is:
"The deliberate, planned and sustained effort to establish and maintain mutual understanding between an organisation (or individual) and its (or their) publics."
PRIA go further and add:
"However, with the massive change in the communication process brought about by the information era, public relations could be described easily as: "The management function which evaluates public attitudes, identifies the policies and procedures of an individual or an organisation with the public interest, and plans and executes a programme of action to earn public understanding and acceptance."  Source: Public Relations News.
Tuned out yet? Or do I still have your attention?
---
In 2011‒12, Public Relations Society of America (PRSA) led an international effort to modernise the definition of public relations. PRSA initiated a crowdsourcing campaign and public vote that produced the following definition:
"Public relations is a strategic communication process that builds mutually beneficial relationships between organizations and their publics."
---
While not stated as a definition, IPR say the following:
"Public relations (PR) is the way organisations, companies and individuals communicate with the public and media."
IPR also add that
"a PR specialist communicates with the target audience directly or indirectly through media with an aim to create and maintain a positive image and create a strong relationship with the audience. Examples include press releases, newsletters, public appearances, etc. as well as utilisation of the world wide web."
---
The Chartered Institute of Public Relations (CIPR) in the UK define public relations as:
"Public Relations is about reputation – the result of what you do, what you say and what others say about you. "Public Relations is the discipline which looks after reputation, with the aim of earning understanding and support and influencing opinion and behaviour. It is the planned and sustained effort to establish and maintain goodwill and mutual understanding between an organisation and its publics."
CIPR also add this handy explanation of the terms featured in their definition (thank you CIPR!):
'Organisation' can be a government body, a business, a profession, a public service or a body concerned with health, culture, education – indeed any corporate or voluntary body large or small.
'Publics'are audiences that are important to the organisation. They include customers – existing and potential; employees and management; investors; media; government; suppliers; opinion-formers.
'Understanding'is a two-way process. To be effective, an organisation needs to listen to the opinions of those with whom it deals and not solely provide information. Issuing a barrage of propaganda is not enough in today's open society.
---
The Canadian Public Relations Society (CPRS) defines public relations as:
"Public relations is the strategic management of relationships between an organization and its diverse publics, through the use of communication, to achieve mutual understanding, realize organizational goals, and serve the public interest." (Flynn, Gregory & Valin, 2008)
---
Public Relations Institute of New Zealand (PRINZ) define public relations as:
"The deliberate, planned and sustained effort to establish and maintain mutual understanding and excellent communications between an organisation and its publics."
PRINZ add that
"public relations also builds and sustains the relationships organisations need to keep their licence to operate. Public relations professionals evaluate the attitudes of an organisation's stakeholders such as employees, shareholders, and the general public, and plan and execute a programme of action to earn public understanding and acceptance of an organisation's policies or activities. Communication, usually visual, written, oral and or experiential, plays a significant part in public relations practice."
---
How We Define Public Relations at Polkadot Communications
For more than a decade, we've worked with hundreds of businesses, predominantly as their PR agency. In this context, we can tell you this; while the definitions above are great for PR in general, they don't really cut it when you're on the front line. If we were to pitch our PR services using the above definitions, how many do you think we'd win? Not many. Why? Because businesses typically use PR to support the sales process (and that includes retaining clients too). That's not something that's really mentioned above. Therefore, we propose this definition of PR for businesses that want to understand PR on a level that relates to them:
---
"The deliberate, planned and sustained effort to create and build positive relationships through value-adding communications, primarily between an organisation and its target customers, to increase new customer acquisition, customer retention rates, and profit margins."
---
This is, of course, a narrower definition than the ones above. But our clients want these results, we always deliver these results, and so we think it makes sense for a definition in a commercial context to be focussed on these results.
Public Opinion & Crisis Management
More than any other branch of marketing and advertising, PR is focused on public opinion, and in guiding that public opinion into a space that is favourable to the company or client. In some cases, this happens on a routine basis, by informing and educating the marketplace about a company's activities, philosophies and triumphs, but it's even more critical when something has gone wrong, and the proverbial fat is already in the fire. PR practitioners and firms never work harder than when the damage is already done, and they need to put a positive spin on a potentially damaging situation. It may not always work immediately, but a good PR response can turn an all-out catastrophe into a neutral or even a positive experience. We create and mould public opinion. We change perceptions, and yes, sometimes, we have to clean up very big messes.
So Much More to Public Relations Than Meets the Eye
Many people see PR as a reactionary process. When companies have made mistakes in judgement or famous people have hurt their reputations, they bring in their public relations specialist to smooth things over and get them back on an even keel.
Good PR is not just something you do to fix a problem though. It's a carefully planned and thought out series of events and communications that are designed to grow and enhance reputation.
Done right, PR should be an ongoing process of intentional image management that encompasses a wide variety range of disciplines, including communications, marketing, press and other forms of publicity. Far from being a knee-jerk reaction, a good PR strategy is carefully thought out months in advance, reviewed frequently, and analysed for efficacy.
Strategies are carefully created and rolled out, and results are measured and quantified. Changes are made as needed, and the ultimate goal is to build a rapport with the public that increases an organisation's profitability and is able to withstand the occasional bump in the road.
PR is not merely marketing with a fancy name. It's more than just communications, and it goes far beyond advertising. It's a highly specialised professional process that literally changes the way the world sees your company or brand.
What PR Is… and Isn't
Public relations is a very broad term that encompasses a huge variety of specific marketing related disciplines and specialities. It may include any or all of:
Reputation management
Communications
Public affairs
Speechwriting
Executive communications
Investor relations
Crisis communications
Internal communications
And a whole lot more!
Public relations is not just one thing. You cannot go into the office in the morning "do public relations" and then move on to the next task. It's a fluid collection of tasks, plans and strategies that are rolled out over time.
It may incorporate elements of marketing, advertising and media relations, but it's so much more than anyone of those. Which probably explains why so many people ask what is public relations in the first place!
Most importantly, remember that PR is not advertising! In fact, there are several important differences between these two services:
 
Advertising
Public Relations
Cost
Advertising is always about paid advertisements. Advertising is generally expensive but the cost can be reduced with highly targeted online campaigns (e.g. Google AdWords, Bing Ads, Facebook Ads and Promoted Posts).
PR focuses on getting your business free media coverage. However, this free coverage has to be earned. This takes a lot of skill, time and patience. But on the whole, it works out to be far more economical.
Control
Because you pay for advertising, you can basically say what you like as long as it doesn't conflict with the advertising standards regulations for the location that the ads are published in. See the Australian Advertising Standards Bureau for example. You can also specify when and where it will be seen in the media.
There is less control over PR messages. Essentially it involves pitching ideas to journalists and other influencers. The ideas may then choose to change the idea or not use it all. However, as journalists are under increasing pressure to publish more stories in less time they are becoming ever more receptive to PR generated content, particularly from a trusted source (like us).
Credibility

Everyone knows that ads are designed to sell them something. People are naturally more guarded and sceptical about ads. One of the big trends in online advertising is Adblocking. It's likely that the majority of your target audience doesn't want to see your ads:

Adblocker Plus, the most popular ad blocking app, has reached 300 million downloads worldwide. (HubSpot, 2016)

64% of ad blocker users do so because they believe ads are annoying or intrusive. (HubSpot, 2016)

41% of ad blocker users found out about ad blockers by word of mouth. (HubSpot, 2016)

A well-written press release or editorial piece doesn't seem like advertising (because it's not!) so people are usually more receptive. Great PR provides journalists and influencers with timely and newsworthy information and stories. An article written by a journalist about a business providing them with this kind of content should be written in an unbiased manner, and by default, it carries the journalist's endorsement. Because of this, your target audience should view the article with a lot more credibility than an advertisement. This is also because the article is not obviously trying to sell them something. In this context, PR can be so powerful that it actually shapes public opinion.
A nose for a story
Advertising is always about pushing your message to the media.
Done correctly, a PR campaign will get editors and news publishers calling you for news and statements.
Length of coverage
With advertising, you are always limited by your budget. As long as you are paying for the ads to run, they run. As soon as you stop, they stop. Without combining advertising with other strategically complementary forms of marketing communications it's an extremely expensive and generally unsustainable way to grow a business.
PR stories are generally pitched to lots of journalists and other influencers. Because of this, when the story is newsworthy and timely its generally published numerous times in many different unique and interesting ways. Additionally, the coverage can be staggered so that the length of coverage increases. Perhaps the greatest advantage here is that when the story is published online, it generally remains published forever. So the length of coverage can be infinite while also contributing positively to a business's website through SEO.
How Does Public Relations Help Businesses?
The next big question in the PR arena is how all of these hard to pin down skills and specialities help businesses, and whether it's a good idea for your business. That's a tough question to answer, and it depends on where you are in the evolution of your company, and what your overall marketing strategy looks like.
On the one hand, you simply cannot get a more comprehensive marketing, reputation and brand management discipline than this anywhere else. On the other, professional PR services typically aren't cheap (although they are cost-effective), and they might not be the right solution for a brand-new start-up with a tiny budget.
If you do have the room in your budget to hire a PR firm, then there are several reasons why it's a great idea. These include:
Create and implement organic marketing and advertising plans that bypass traditional outbound strategies, and put your brand front and centre. When you think of any household name, it was a PR company that put them there!
PR companies focus very tightly on your target market. So rather than spending your marketing budget throwing things at the wall and seeing what sticks, you can maximise every dollar.
Find friends and partners in high places. Public relations specialists already know the editors of the trade magazines you want to reach, and they're already invited to the big industry parties you want to attend. It may not be the most obvious answer to what is public relations, but very often, the most effective part of your PR strategy is the warm introduction you get.
Finally, when you work with a PR professional, you work on building a community. A tribe of fans and followers that are a big part of your publicity machine.
The magic of public relations is that it is cumulative. Your strategy will be designed to grow and solidify over time. Done right, eventually, your target market will seek out your marketing message, rather than you having to chase them down with it, and that saves time and money in the long term.
Our Success Stories
Any good public relations company will have a long list of happy clients ready and willing to back up their claims, and we're no different.
We work across multiple industries, solving problems for our clients, many of whom were asking what is public relations before we got started too. We've helped brands like foodora to manage the public roll-out of their Suppertime re-brand and acquisition, then boost app engagement and sales, and we've worked minor marketing miracles for clients like Freedom Foods and Travelodge Hotels.
Each client had different needs, goals and challenges, and we're proud to say that we got awesome results, every time.
Is PR Right for You?
More important than answering the question of "what is public relations?" is to answer the question of whether it's right for you. We'd love to help you do just that if you're ready to talk. If you're not quite sure, that's fine too. We'd recommend that you visit our website anyway, and read posts like our list of Free PR Tools that you can use to get started.
Public relations is not a one-hit wonder. It's not about one video that's viral today and gone tomorrow. Although quick-wins are generally possible, to get the best results week after week, month after month, year after year, PR should be a sustained, long-term campaign to create or change public perception. It's the art and science of creating a positive public image, and when it is done right, it will make customers want to buy from you. Talk about a captive audience!
Follow us on social media, or subscribe to our newsletter (it's free!), and when you've decided that PR might work for you, get in touch. We're friendly, and we're happy to answer all your other questions, and we'll work out a tailored solution for you too.
THE IMPORTANCE OF INFLUENCERS IN PR
The importance of building relationships with key influencers as part of any successful PR, influencer marketing or outreach campaign has never been more important.
Over the past decades, marketing and PR professionals and anyone 'accidentally' involved in marketing and PR like entrepreneurs and business owners will have seen their roles change. And these changes are accelerating amidst continual rapid changes brought about by new technologies and social behaviours.
Our job as PR professionals is usually to enhance the reputation of the organisation that we are supporting. According to the Chartered Institute of Public Relations (CIPR), that reputation is "the result of what you do, what you say and what others say about you."
An organisation's reputation is a core component of its brand, and it is so important because of the effects it has on an organisation's bottom-line. Here are some of those effects:
Increased new business acquisition rates
Increased customer and employee retention rates
Lower costs of new business acquisition
Lower costs of customer and employee retention
Increased volume of sales from new and existing customers
Increased average order values from new and existing customers
The ability to charge premium prices
The ability to recover from negative publicity
The bottom-line?
BIGGER PROFITS!
There are many factors that build a reputation, such as having a great product and providing fantastic customer service to name just two. If these factors are generally good, then PR professionals can use this foundation in many different ways to build relationships with and organisation's publics.
Publics are audiences that are important to the organisation. They include customers – existing and potential; employees and management; investors; media; government; suppliers; opinion-formers (CIPR).
The focus of this list and all of its different parts is on helping you to build relationships with the final member of the CIPR's list of publics; the opinion-formers.
Opinion-formers are the influencers.
Day-in-day-out the team here at Polkadot Communications works tirelessly towards building and maintaining relationships with the key influencers that can make or break our clients' brands and businesses.
But why are they so important?
To help explain this, I'm going to approach this from two angles:
The influencers' role in the Diffusion of Innovation
The influencers' role in the customer decision-making process
I'll now cover these concepts and show how they relate to each other.
The influencers' role in the Diffusion of Innovation
If you're not familiar with Everett Rogers' (1976) Diffusion of Innovation model you can see it here in this illustration from a great SmartInsights blog post by Annmarie Hanlon:
Essentially, when an organisation (typically a commercial business) launches a new product (a 'product' can be a 'service') or new way of doing things, its aim will most likely be to get people in its target audience/market to trial, purchase and use it in order to make a profit.
The Diffusion of Innovation model categorises the people in the target audience as follows:
| | |
| --- | --- |
| CATEGORY | PERCENTAGE OF POPULATION |
| Innovators | 5% |
| Early Adopters | 5% |
| Early Majority | 34% |
| Late Majority | 34% |
| Laggards | 16% |
And it notes the typical percentage of the population that they represent as shown above.
The number of people in the target population adopting (trialling, using, purchasing, etc.) the product can increase over time as people within the categories defined by the model. This adoption is sequential (1-5).
I have marked the Early Majority in red as it is not until the people in this category/group adopt the product that the organisation will make a profit. This is because of the expense involved in creating and marketing it.
Now, remember, the adoption is sequential. Therefore, unless the people in the Early Majority have seen Early Adopters and Innovators using the product in a positive way then they won't want to use it.
The same this goes for the Early Adopters, they need to see the Innovators using the product in a positive way before they want to use it.
I have emphasised 'in a positive way' to reflect the type feedback gained. For example, if Early Adopters were using the product but were saying that the product wasn't very good and they wouldn't use it or buy it again, then the Early Majority would pay attention to that not want to use it.
This happens because of the types of people that fall into the categories. Very basically, the Innovators are risk-takers and want to be the first to use something new and be seen using something new. So they're people that actively look for new thing to try, and then often show-off that they are using the new thing before anyone else.
At the other end of the spectrum, the Laggards don't use something new unless they have to – for example, they might only buy a smartphone when mobile phones with buttons are no longer available.
So if you are risk-averse, you need your perception of the risk involved in adopting the new thing to be lowered enough for you think it's safe and would be of benefit to you in some way.
The people in the Early Majority, the people that the organisation needs to reach to be profitable, are fairly risk-averse.
So if they're seeing positive feedback from the people whose opinion they value and that they pay attention to, they will be influenced to adopt the new thing.
And that's the golden ticket right there!
The Innovators and the Early Majority are THE INFLUENCERS.
The influencers' role in the customer decision-making process
So now we know why we need to build relationships with influencers so that they use our products and advocate, endorse and promote.
Because if we don't, profits will be non-existent or rubbish.
Now let's look at where influencers fit into the customer decision-making process. This is really important because if this is not understood, we won't identify the influencers that will affect our target audience and we won't craft the right messages and use the right channels that the influencers and target audience use.
We must be customer-centric to do a good job here.
Typically, customers (buyers) can move through a thought process that results in them doing something that the seller wants them to do, usually to buy something. And beyond that, to repeatedly buy something from the seller and become a loyal customer that also tells people how amazing the seller is and how awesome their products are.
A simplified linear way of looking at this can be seen using the classic AIDA model below:
The image used above is from another great blog post from SmartInsights that I'd recommend you read.
An organisation's marketing and communications efforts should be geared towards moving customers down/along this path or funnel as quickly and cheaply as possible in order to maximise their return on marketing investment (ROMI).
In reality, this process is very complex and involves multiple online and offline communications channels (e.g. direct mail, TV ads, printed editorial content, websites, social networks, email campaigns and so on) and multiple devices (e.g. desktop PCs, tablets and mobiles).
If you'd like to understand more about multi-channel customer journeys and the role of mobile in that journey, I'd highly recommend checking out the free Think with Google tools.
Take a look at the diagram below from McKinsey and SmartInsights that focusses on Google Zero Moment of Truth (ZMOT) concept and you will that at every stage the customer is affected by their relationships and the sharing of information and opinions; whether they are sharing themselves or digesting the thoughts and opinions of their influencers.
In a B2B context, this still applies. But it is a little more complex as often more than one person is involved in the decision-making process (e.g. the Marketing Manager, the Financial Controller, the business owner, the Sales Director, etc.). Together, the people involved in a business purchase for the decision-making unit (DMU).
Consequently, the added challenge in this situation is to find and engage the influencers that relate to each of the individual members of the DMU.
Firstly, remember to find out who is in the DMU and work out whose opinion they value. Who are their influencers?
Often, due to a lack of research, organisations will target top-level senior staff thinking that they are mostly responsible for the business purchasing decisions. Of course, this can be the case. But take a look at this very interesting article from Think with Google about the unlikely suspects.
Probably the most important thing to take away from this is that…
Influencers drive action, they don't just generate awareness.
The link between PR, influencer marketing, blogger outreach and search engine optimisation (SEO)
Public Relations (PR), influencer marketing, blogger outreach and search engine optimisation (SEO) are closely related and boundaries between them are blurry, to say the least.
The broadest areas here are PR and SEO, as numerous sub-disciplines and activities fall under them. Take PR for example, It can cover:
Brand Public Relations
Product Public Relations
Employee Relations
Financial Relations
Community Relations
Crisis Communications
Government and Political Relations
Consumer Education
SEO covers technical work relating to the optimisation of a website for the benefit of the search engines (mostly Google), the optimisation of the content of the website (e.g. URLs, metadata, copy, images and videos) and the off-site content including the links back to the website.
It is this last area that we see the overlap with PR, influencer marketing and blogger outreach.
For example, influencers can be bloggers (who are generally active across multiple social networks) people active on one or more social networks, celebrities, online and offline journalists and feature writers that create content for newspapers, magazines, TV and radio. Many influencers are a combination of these things.
As part of brand and product PR campaigns, PR professionals build relations with influencers like these in order to get them to use, endorse and promote their clients' products.
At Polkadot Communications, we specialise in brand and product PR, and over the last 10 years, we harnessed the incredible power of influencers to generate awareness, desire, interest, action and loyalty for our clients.
Where these endorsements result in links from websites, blogs and social networks to the organisation's website, the direct SEO benefits can also be seen.
Blogger outreach has spawned from SEO and is really a form or product and brand PR with a purely online marketing focus.
And influencer marketing broadly speaking covers all of this.
Where influencers influence
We have covered why it's important to build relationships with influencers and how that relates to various marketing and communications disciplines and activities.
But where exactly are these influencers influencing?
This can be illustrated using the rather useful PESO model created by Gini Dietrich:
So basically…they're potentially everywhere!
They're all over our owned, earned, shared and even paid media.
However, the particular focus for PR and any outreach programmes is generally in the earned and shared media spaces. Klout explains why it helps to target and use influencers, whatever your business does:
Why Earned Media Matters Earned media isn't new. Consumers have been talking about your brand for years on social media, and because 92% of people trust their peers, it's had a major impact. In fact, earned media provides 4x the brand lift of paid ads.
Earned media channels are where we can find the influencers relevant to our target audiences, and this is where our journey through this awesome mega-list of free tools for PR, influencer marketing & blogger outreach begins.
As paid media channels become more expensive, it's never been so important to connect with the influencers that matter to you in order to create authentic brands and messages that will stand the test of time.
Whether your business is brand new, or just trying to compete in an ever-noisier marketplace, you need to get noticed! After all, customers can't contact you if they don't know you exist!
A good PR strategy can help you to achieve that initial burst of interest and traction without breaking the bank, and it can be relatively quick and easy to implement a basic plan. The following steps are a good start:
Set your PR strategy goals
Define your key messages
Know your target market/audience
Set your budget
Make Sure It's Relevant to Your Target Audience
Find the Right Opportunities
Make a start!
Measure results
Keep learning and improving
With those basic steps, you can get started on public relations, right now, to start building your audience and target market.
1: Set Your PR Strategy Goals
You've probably heard of SMART goals or goals that are Specific, Measurable, Achievable, Relevant and Time-bound, but you might not be aware that countless studies have proven that when anyone has defined goals, they are significantly more likely to achieve them and much more productive than when they do not have defined goals.
Your goals don't have to be written in stone. You can review and revise them when you need to. But you should definitely set some at the beginning of your PR strategy and campaigns so that you have an overall direction to follow.
Everything you plan and do from this point on should support these SMART goals. If it doesn't then essentially you've lost your way and you are probably going to waste lots of time and money.
If you'd like to learn more about setting SMART objectives, take a look at this great post from the SmartInsights team.
2: Define Your Key Messages
We live in a noisy world. TV. Radio. Devices. Family. Friends. Work. Everything demands our attention all the time, so it's no wonder we don't have much room for anything else!
That's exactly why an effective PR strategy is based on a handful of core messages. People might not have time to take everything in all the time, but if they see the same messages repeatedly, they will take note. It's why advertising is more effective if you have a big budget to run ads more frequently!
3: Know Your Target Market/Audience
Have you ever received junk mail that has absolutely nothing to do with you, and got annoyed or frustrated? You're not alone. None of us enjoys having our time wasted by irrelevant issues.
What you say is a big part of the battle. Who you say it to is an even bigger part!
Knowing whether your ideal customer is a consumer or a business, who they are, what interests them, what they read and where they "hang out" online is a huge step in creating a successful PR strategy.
Content marketers are masters at defining their audience, and organisations like the Digital Marketing Institute have some great tools and tips to get you started.
Not only should your campaigns relate to your buyer persona, they should also consider their needs at each stage in the buyer journey.
Here are some great content ideas for each stage of the buyers' journey that you could promote with PR.
4: Set Your Budget
If you're in business, you deal with budgets and numbers all the time. Your PR strategy is no different. You need to know what you have to work with.
Sometimes, particularly for new businesses, there is no budget at all. That's okay too, as long as you're honest about it, and understand that you can still "do" PR, but that there will be a lot more time and effort involved!
If you're in that situation, you might find this article useful: Three Ways To Get Great PR Without A PR Budget
As part of this, you can utilise some really handy free PR tools further within the guide.
If you do have a budget to spend on PR, monthly or annually, and you do want to outsource, most good PR firms will be honest and upfront about what your budget will cover. Once you know those details, you'll have a defined starting point.
If you need help deciding on your budget, a great rule of thumb is to allocate between 5% – 10% of the business turnover you are aiming for.
So let's say your SMART goal is to "double turnover from $1m to $2m in the next 12 months" you could do the following calculation:
$2m x 10% = $200k
$2m x 5% = $100k
To work out your monthly budget, simply divide by 12:
$200k / 12 = $16,667
$100k / 12 = $8,333
Then based on this budget, work out how you can allocate it to your marketing and communications efforts with our handy PR budgeting template.
FREE DOWNLOAD: PR BUDGET TEMPLATE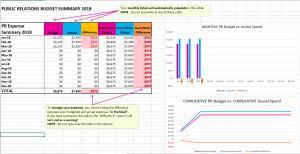 5: Make Sure It's Relevant to Your Target Audience
Unlike advertising, when you can pay an ad agency to say whatever you like, PR relies heavily on public interest. Press releases, for instance, must be newsworthy. They must be interesting. They must be timely, and most importantly, they must be relevant.
From the topic of the release to the publication you send it to, always ask yourself if your news is relevant. If not, you may want to backtrack and rethink your strategy!
6: Find the Right Opportunities
To be successful in PR you need to be relentless in your pursuit of PR opportunities.
Once you've followed the steps above you'll have defined exactly who you are targeting and what problems and challenges they are trying to solve that your organisation can help them with.
This sets the context for the opportunities you will look for, but how do you find those opportunities?
Obviously, we can help you with that. It's our job as the leading communications agency in Sydney to constantly find great PR opportunities for our clients and land great online and offline media coverage that increases their profitability.
However, if you'd like to have a go yourself, take a look at our handy post about how to find more of the right PR opportunities for free.
7: Make a Start!
Planning is great, but don't let your PR strategy get stuck in the planning stage too long!
You've heard the saying "there's no such thing as bad publicity"? Well, that's not entirely true, but it can be said that any mention you manage to get in the media, even if it's not perfect, is a step towards PR success.
Public relations is cumulative. It's a marathon, not a spring. Even if you manage only one successful piece of PR a month, you will see the effects over time, but the important thing is to make a start!
The good news is that you can start small too. Get ready…
Go!
Right now, sit down and create three newsworthy titles about your business that you can pitch to the press. Then list five news outlets who might be interested in your news.
Write a press release for each of those titles, find the news submission area on the websites of the outlets you're targeting, and submit them.
If your press releases are interesting, relevant and timely, and you're pitching them to the right people, there's a good chance your release will get you the media coverage you want. Repeat this as often as you have news to share, and you should build a good foundation PR strategy without breaking a sweat.
8: Measure Results
The final step in any kind of marketing, advertising and PR strategy should always be to measure results. Did your piece get media attention? How many people contacted you because of each piece? What sort of feedback did you get?
If your PR strategy and campaigns are working, over time you should see positive impacts on your profitability. If you are serious about business, here are some things that directly impact your bottom-line that you should be monitoring where relevant:
Number of website and shop visitors
Number of sales leads
Number of orders/sales
Average order/sale value
Number of repeat orders/sales
Customer retention rates
A successful PR strategy will help to increase all of these things.
If you don't know how to track some or all of these things, get in touch and we can help you to work out a bespoke measurement and tracking system for your business.
By taking this step at the end of any marketing and media outreach campaign, you can figure out what works, and do more of it. You can also stop wasting time and money on strategies that don't work as well.
9: Keep learning and improving
Of course, public relations strategy is a huge topic, and fully developed campaigns have an enormous amount of moving parts that can't be covered in just one post. It also changes all the time. That's why PR professionals study their craft and continue to learn new tactics and strategy throughout their careers.
The beauty is, you don't have to know everything to get started, and there are resources (like our blog and newsletters) that can help you to get started on your own PR strategy, no matter what stage of business you're at. We'd love to hear about your triumphs or challenges too, so be sure to sign up and comment!
Public relations is, without a doubt, a very specialised branch of marketing and communications, and it's always a good idea to trust the pros with your company's public image and PR tactics.
That having been said, there are a few PR tactics that are so effective and so universally successful that nearly anyone can use them to gain traction in the marketplace and to make your brand famous fast. They're quick, they're dirty, and they get the job done! (Often free!)
Here's our list of can't miss PR tactics you can use today:
Focus on Relationships
In case you missed it, the age of the hard sell is over! The era of the relationship has begun, and it's become the most important element of customer relations. Instead of telling your customers what you want them to know, switch your approach to asking what they want and need.
How do you know what they need?
Well, rule #1 is not to assume anything. When you're working on your PR Strategy be sure to get to know your target audience by creating a buyer persona like the one mentioned in our article Stunning PR Strategies that can Help Every Business Now.
Here are 20 Questions to Ask When Creating Buyer Personas from the awesome HubSpot blog:
Personal Background
1) Describe your personal demographics.
2) Describe your educational background.
3) Describe your career path.
Company
4) In which industry or industries does your company work?
5) What is the size of your company (revenue, employees)?
Role
6) What is your job role? Your title?
7) Whom do you report to? Who reports to you?
8) How is your job measured?
9) What does a typical day look like?
10) Which skills are required to do your job?
11) What knowledge and which tools do you use in your job?
Challenges
12) What are your biggest challenges?
Goals
13) What are you responsible for?
14) What does it mean to be successful in your role?
Watering Holes
15) How do you learn about new information for your job?
16) Which publications or blogs do you read?
17) Which associations and social networks do you participate in?
Shopping Preferences
18) How do you prefer to interact with vendors?
19) Do you use the internet to research vendors or products? If yes, how do you search for information?
20) Describe a recent purchase.
Do Things That Don't Scale
This is a very popular "new marketing" phrase for a very good reason – it works. Many of the world's biggest startups used this exact idea to gain early traction. From personal invites to join Facebook back in the early days to Uber's ice cream promotions, doing things that are out of the ordinary will help you stand out early on.
Claim Your Expert Status
There's a reason your customers choose you over the competition: you really know what you're doing! But they won't necessarily know that unless you prove it to them.
There are a variety of marketing tactics that can grow your personal and business credibility, and entrench your brand as the go-to in your field. These include:
Write articles or blog posts about your knowledge. There's something about having your knowledge down "on paper" that lends even more credibility and clout.
Take advantage of speaking engagements. Even if it's just a short talk in front of the local chamber of commerce, if you present your expertise to an audience well, you'll make an impression!
Use case studies on your website or in your marketing materials. Explaining what your other customers' problems were (and how you solved them) goes a long way to building trust with prospective customers.
If the media are looking for a professional opinion in your field, make yourself available to answer!
The more the public sees and hears you speak competently and knowledgeably about your industry and field, the more they will start to see you as the professional and expert that you are, and everyone wants to deal with the experts at the end of the day.
Pitch News Stories Like a Pro
The media is one of your best PR resources, but you need to know how to say the right things to the right people if you want to leverage this resource!
Start by looking for media opportunities in the right places. Journalists are under enormous pressure in the internet age. They need to get the next big scoop, and they need it fast. Registering for services like HARO (Help a Reporter Out) can be one of your best PR tactics because it helps you to find the reporters who want your news.
Keep it short, sweet and factual. With the rise of "fake news" it's become more important than ever to make sure your stories and news are above question.
If you are considered an "influencer" in your field, leverage that status. Reporters will always choose to talk to the best-known voice in a particular arena, so become that voice!
Use email and social media to reach out. It's quick, it's instant, and it is the modern journalists' communication method of choice.
Stay Focused
You know Uncle Bob who tells those long, rambling stories at family gatherings? You tune him out around the ten-minute mark, right?
Uncle Bob doesn't tailor his message to his audience, and he doesn't stick to the facts. Make sure that your PR tactics are targeted to your ideal customers, and that you stay on topic.
Who are your ideal customers?
Again, this comes down to doing your homework.
For example, if you have an existing website you could follow the instructions in this post titled How to Create Profitable Buyer Personas in No Time to use Google Analytics to mine some very useful insights.
Once you've got started with that, you can start quizzing people in your target audience with the questions listed above.
Then you can tailor your messaging to helping your target audience to overcome their challenges and achieve their goals.
It's a winning combination that we use time and time again with our clients.
Images Do Speak A Thousand Words
When market research companies analyse social media accounts, they consistently find that status updates and tweets with images perform better in terms of retweets, mentions and clicks than text alone.
Articles, blog posts and marketing materials are no different, so make sure that your PR tactics include sourcing or creating relevant photographs, infographics or other types of visual media. Bonus points for using video!
Need help sprucing up your images?
Check out Canva, it's an awesome tool!
Be Controversial
There's a very old saying about any publicity being good publicity. While that's not exactly true, it is true that in some cases, doing something controversial can get you big media attention!
Examples of this tactic would be to ban something (often something seemingly unimportant, like ties in your office or the use of the word "no"), or to make a statement on a hot topic to get the debate going. Declaring your own "holiday" is another great way to do something controversial without stepping on toes.
Be respectful and steer clear of political hot potatoes, but having a bold take on something can get you a lot of press!
Be Available to the Media
Call press conferences when you have big news. Offer insider insights on big stories. Follow up with media contacts who have published stories about your company in the past.
The more available and approachable you are, the more likely journalists will be to contact you.
Manage Your Reputation Actively
The internet is great. It really is. Until people start saying things about you online that aren't flattering.
The best way to manage your online reputation is to delight your customers, and ensure that every review you get is a fawning love-fest… but that doesn't always happen. Sometimes, someone drops the ball. Sometimes, a competitor posts a fake review. Whatever the cause, you need to know about it, and take appropriate action.
Monitor any pages where your customers can leave reviews, and react respectfully and with concern for their happiness whenever you get a less than perfect review. Respond quickly and helpfully, don't get embroiled in a public argument!
Create a Google alert for your company and or product name, so that you get a notification when you are mentioned in the news. If your PR tactics are working, it's likely to be a good mention, but if not, the sooner you contact the journalist to correct the problem, the better!
Learn from Other Peoples' Mistakes
This one is pretty straightforward. Keep an eye on what's going on around you and think about what worked and what didn't work.
Things that did work – could you imitate the campaign in some way?
Things that didn't work – don't do anything like them!
Give Back
Finally, when it comes to PR tactics, there's one that always works, without fail: being kind and giving back.
Volunteering to help out a charity, walking shelter dogs or a Christmas party for local orphans is a guaranteed way to get a positive mention in the local news, and you get to do something great for the community while you're at it.
Whatever your final PR tactics are, mix it up. Try a few, and monitor your results. Any of these tactics should get you rock solid results, but you should find that a few really stand out. Do more of those, and less of the others, and keep growing that brand!
If you are not sure how to get started with any this, or if you don't have the time. We'd love to talk with you and see if we could help.
Get in touch! (We don't bite. Much.)
FREE PR TOOLS FOR INFLUENCER IDENTIFICATION
Once you have defined your target audiences, probably a group of customers, you need to then find which influencers they pay attention to AND that might be willing to work with you in order to promote your business, products and brand.
So you might find an influencer, a blogger for instance, that writes about organic beauty products, and they may review and recommend them in order to provide value to their readers. 
If you'd like to take your business to the next level, then check out our awesome PR Playbook for lots of great PR strategies, tactics and tools!
Let's say that your business sells beauty products that are not organic. 
Do you think that you should spend time researching how to make contact with this blogger and then send them a carefully crafted bespoke message, in order to build and nurture a relationship that hopefully leads to a positive review for your brand and products? 
The answer is no. 
Your products aren't organic and the blogger will probably think you're disingenuous and haven't bothered to read any of their posts or about the purpose of the blog. 
This could then damage a potentially fruitful relationship with them, that you might need in the future if you were to produce organic beauty products. Additionally, they might tell other influencers in their network what you have done, potentially damaging relationships with a whole group of influencers that could have been useful. 
The lesson here is to be careful and do your research. 
Identify influencers, but only target the relevant ones. 
Otherwise, you risk wasting time, money and your reputation. 
Enjoy the read, 
Dionne Taylor
---
HOW THIS LIST HAS BEEN ORGANISED
For each tool in the list, I have written notes on what the tool does and my thoughts on it, a series of mini-reviews. I have also summarised some key points and features in a table that indicates the paid options for the tool (if available). Some of the tools are totally free (at the time of writing this). 
Just below, you will see the summarised list of free tools. 
My overall tip for getting the most out of these free tools and avoiding the need to pay for them is to combine their power. Often features are limited in the free version of the tool but the limitations can be overcome by using other tools on the list.
THE FREE PR TOOLS:
---
Read about each of the free tools in detail below, click on the tool names to go to access the tools:
---
WHAT DOES IT DO?
This tool helps you to research and analyse what content performs best for any topic (e.g. keywords, brand names, industries and competitors) so that you can find the key influencers to approach to promote your content.
POLKADOT COMMUNICATIONS VERDICT
This tool is very useful for finding relevant influencers across a wide variety of sectors. When using the tool for free, you are limited to a handful of searches for most shared content, trending content and Twitter influencers. The number of results shown for each search is limited to 5. 
The results for either type of search result links to the shared content and stats relating to the number of shares on some of the main social platforms: 
Facebook
Twitter
Pinterest
Reddit
It also shows the number of links back to the page/post from other website pages/posts (AKA 'backlinks'). This is another indication of how well shared and influential the content is. Backlinks are typically much more difficult to get than social media engagement though, so expect to see fewer backlinks. 
From a promotional perspective for your content, a backlink building strategy is highly recommended as there's a massive SEO benefit, as well as the benefit of having influencer endorsement that drives traffic to your site. 
You could run this as part of your PR strategy, or alongside it as part of your SEO strategy. 
Despite the limited number of results in 'most shared' content, this is still very useful as you can click through to the resulting articles and follow-up with other research to uncover relevant influencers. You can also filter the trending content by pre-set curated feed categories, and as part of the free account level tools, you can create one custom curated feed yourself. 
Here's what you could do next: Open twitter and copy and paste the URL of the highest shared article you have discovered on Buzzsumo into the 'search Twitter' box in the Twitter header area. 
There are various search options within Twitter and we would recommend using the search 'All' search. You will then see the Tweets that have mentioned the URL you are looking for, even if the URL is embedded in another link such as in a shortened link (e.g. from bit.ly, bit.ly Pro, ow.ly, etc.). 
You will then see all of the users and their Tweets that contained the link. Fabulous! 
Let's see this in action in relation to the rather broad 'beauty tips' keyword as an example. Pop it into Buzzsumo and click on the topmost shared link:
Copy the URL from the search bar: 
Go to Twitter and paste it into the search box (e.g. https://guidewomenhealth.com/15-beauty-tips-for-women/) and then search. 
You will get the search results and now you can see all of the people that shared the content! 
However, one major drawback with the free version of Buzzsumo is that you can't filter by location. So if you're looking for local influencers, it's not so good. 
BIG TIP! 
Use this tool in conjunction with the other free tools in this guide. If you're looking for local influencers (e.g. influencers in a specific country) try using Ubersuggest – also covered in this guide. 
PRICING & FEATURES SUMMARY
Website: 
Industry: 
Cost: 
Free version available
Paid versions available from $79+ per month
Free Features: 
Most shared content searches
Trending content discovery
Find Twitter influencers
Usefulness: 
Free version – 4/5
Paid version – 5/5
---
WHAT DOES IT DO?
Anewstip helps entrepreneurs, PR professionals and marketers connect with relevant media influencers. 
The tool helps you to search for relevant media contacts from what looks like the world's largest database containing millions of Tweets from the birth of Twitter to the present day. 
It can also monitor news articles and Tweets from global media influencers so that you can keep track of what is being said about your own brand, competitor brands or any other brands you are interested in. 
Additionally, you can get organised with the tool and create media lists and pitch to influencers directly through the platform.
POLKADOT COMMUNICATIONS VERDICT
This is a very useful tool for finding relevant influencers, especially as the number of searches is unlimited even at the free account level. Unfortunately, the free account does not allow you to access the influencers' contact details.
BIG TIP! 
The lack of access to contact details can be overcome by paying for the tool or by simply searching for the influencers' names in Google and by adding 'Twitter' or another media platform to your search term (e.g. 'joe bloggs Twitter' or 'joe bloggs LinkedIn'). Normally this results in quickly being able to match the Anewstip research with the influencers' media channel. From there, you can add their details to your database and make direct contact.
PRICING & FEATURES SUMMARY
Website: 
Industry: 
Cost: 
Free version available
Paid versions available from $200+ per month
Free Features: 
Unlimited influencer searches
Create media lists (limited)
Create alerts (limited)
Usefulness: 
Free version – 3/5
Paid version – 5/5
---
WHAT DOES IT DO?
A totally free tool from Google that allows you to set email alerts relating to keywords that are of interest.
POLKADOT COMMUNICATIONS VERDICT
This is a great tool for several reasons. In relation to identifying influencers, I would recommend that you create alerts for keywords linked to your brand or business to help you identify people who are actively creating content (e.g. written articles, videos, images and infographics, etc.) about those topics. 
As Google seems to scour the whole web for content, this tool often picks up potential influencers that other tools can miss. 
With regards to creating 'useful alerts', I would recommend setting up separate daily summary alerts for the following, using a fictional organic beauty (cosmetics) product business as an example: 
Your brand name (e.g. Totally Natural Beauty – fictional name)
Your direct competitors brand names (e.g. Lavera – a real natural cosmetics brand)
Other competitors in your industry (e.g. L'Oreal – a global cosmetics brand)
Relevant keywords (e.g. "beauty tips", "cosmetics review", "natural cosmetics", "organic cosmetics", "beauty brands Australia", etc.)
When you get your emailed alerts, you can then click through to the resulting articles and videos etc., and then assess whether the author is worth targeting as an influencer. You could do this by looking at the type of content they publish on their website and/or social channels to see if it's relevant. You can then also see how active they are and how influential they are from the number of shares, likes, followers, etc. that they have. 
This kind of research can be enhanced by finding the prospective influencer within tools like  Anewstip for example (also covered in this list).
BIG TIP!
You can see in the screenshot below that I have previewed an alert for "beauty tips" and I have actually used speech marks ("") in the search box. This makes sure that the results contain that exact phrase, which is handy if results in the preview look too broad.
PRICING & FEATURES SUMMARY
Website: 
Industry: 
Cost: 
Free Features: 
Get alerts for keywords related to your business directly into your inbox
Usefulness: 
---
WHAT DOES IT DO?
This tool scours Twitter for users' profiles or just their bios for keywords that you search for. The results list Twitter account and profile information that includes names, Twitter handles, bio info, geographical location, no. of Tweets, no. of followers, no. of following, the age of the Twitter account (in days) and 'social authority.'
POLKADOT COMMUNICATIONS VERDICT
This is an extremely useful tool. You can use some of the key features of the tool for free in exchange for your Twitter details. A bargain! 
To find influencers, all you need to do is search for keywords that relate to your business. If we stick with the beauty brand example then you might search for "beauty blogger" and the results will show Twitter users with that in their profiles (see screenshot below). You can also see how influential they are from the stats, and the 'Social Authority' measure is particularly useful here. This is basically how influential the user is.
'Social Authority' is composed of: 
– The re-Tweet rate of users' last few hundred Tweets 
– The age of those Tweets 
– A re-Tweet-based model trained on user profile data 
To read more about the 'Social Authority' measure, take a look at this Moz Blog post. 
So this will help you to determine which users are worth targeting and adding to your database. 
BIG TIP!
Combine using this tool with other tools mentioned in this list. For example, you might have found a potential influencer using Google Alerts because they have produced some relevant content. But are they worth adding to your database and targeting? 
Well, you could search for them in Followerwonk and Klear (see later in this list) to check out their stats.
PRICING & FEATURES SUMMARY
Website: 
Industry: 
Cost: 
Free version available
Paid versions available from $29 per month
Free Features: 
50 Twitter profile searches per day
100 Results per search
Analyze accounts with up to 25k followers
20 Analyses per day
Compare to others with up to 150k followers
20 Comparisons per day
Usefulness: 
Free version – 4/5
Paid version – 5/5
---
WHAT DOES IT DO?

Find (some for free), monitor and analyse (paid features) influencers by searching in relation to their 'skill' and location. This is based on Twitter influencers and if you pay, then bloggers, and Instagram and YouTube influencers are included too.
POLKADOT COMMUNICATIONS VERDICT

This is a great tool for discovering the top influencers in relation to topics, industries and keywords. The free tool for searching for influencers by location is so limited that it's basically useless though.
This tool also shows you the influencers' handles/presence on other social networks and enables you to connect with them, so it's helpful for productivity and for opening multiple channels through which to make contact with the influencer…and helps you to assess the opportunities for content promotion through multiple social channels.
BIG TIP!

This is a wonderful tool for combining with other tools such as Buzzsumo and the Twitter search function, also mentioned in this list. Again, you may have discovered potential influencers that have posted and/or shared content but you are wondering who to prioritise with your outreach efforts.
In Klear, you could then find the influencers by searching for their Twitter handle (obtained from another tool like Buzzsumo for example), so that you can note their influence scores in Klear based on activity, popularity and responsiveness.
PRICING & FEATURES SUMMARY
Website:
Industry:
Cost:
Free tools available with limited usage
Paid versions available from an unknown amount – you need to talk to their
sales team to uncover the pricing info
Free Features:
Search for the Top 10 twitter influencers in a niche
Search for the Top 10 twitter influencers in a location
Get some basic analysis on a twitter account
Usefulness: 
Free version – 2/5
Paid version – 5/5
---
WHAT DOES IT DO?
Quora is a question-and-answer website tool/platform where the questions and answers are user-generated.
POLKADOT COMMUNICATIONS VERDICT
You might have come across Quora before when seeking answers (for anything!), but Quora is actually a great free tool for helping with your influencer search and assessment. You can search for questions and answers relating to relevant keywords. Users with good answers on the site tend to receive 'upvotes' and get lots of views. Using this knowledge you can then spot potential influencers in their capacity of acting as an expert in this forum. 
In the screenshot below you can see that I searched for 'beauty tips.' I then clicked on the 'Most Viewed Writers' link in the results menu to see a list of potential influencers. I then clicked through to Emma Brown's Quora profile to view her profile information including all of her answers (see overleaf). As part of this there is a link to her Twitter account (see overleaf), so that could be used for further research and finding contact details. Some influencers enable the direct contact functionality within the site and so you can message them directly. 
Other features include setting up alerts and notifications for topics and following members. So this can help with your research efficiencies.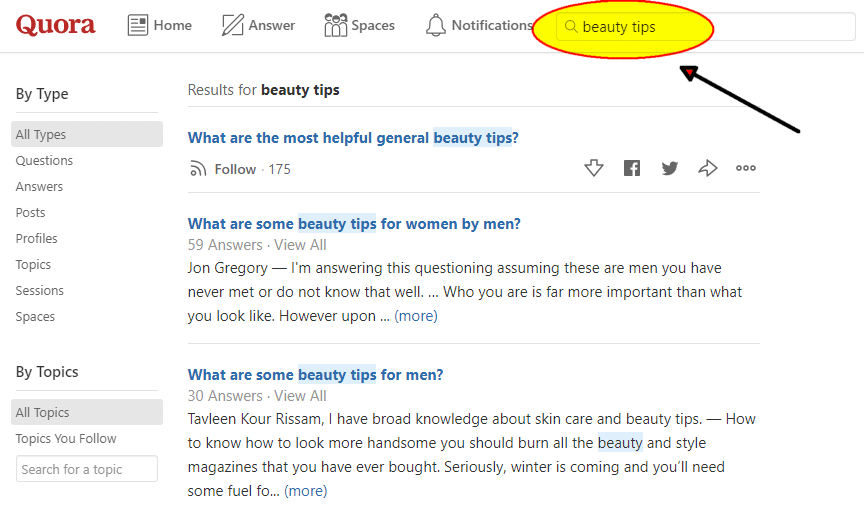 Click through to Quora profiles to view profile information including all of the influencers' answers. 
Find further information for influencers by clicking on their listed details, which can include social media profile links: 
BIG TIP!
To further assess how influential the potential influencers are in Quora, you could find them in  Followerwonk and check out their Social Authority score.
PRICING & FEATURES SUMMARY

Website: 
Industry:
Cost: 
Free Features: 
Search for influencers by topic using keywords
Find influencers' social media accounts, personal websites and contact details (when available)
Directly message influencers (when available)
Create alerts for topics
Subscribe to influencers' feeds
Usefulness: 
---
WHAT DOES IT DO?
LinkedIn is the world's largest professional network with more than 575 million members, with more than 260 million monthly active users in 200 countries and territories around the globe. It does rather a lot of things really; by building your profile and network through the site it can help you to land your dream job, grow and nurture your network, unlock sales opportunities and find and hire talent. 
Free accounts are available and come with many useful features. Paying for an account (there are different membership levels) enables you to contact and connect with more people more easily, and gain access to insights about yourself, your business (if you manage a business profile) and other LinkedIn users.
POLKADOT COMMUNICATIONS VERDICT
This is a great tool for finding influencers; some LinkedIn users are so influential that they are classified by LinkedIn as an 'Influencer', but there are not very many people at this level in relation to the number of LinkedIn users. However, even if someone isn't classified as an Influencer by LinkedIn, you can easily find thousands of them. 
Probably the easiest way to do this is to use the main search box in the header menu are of the site and use keywords relating to your business. 
In the screenshots below, you can see I did a Boolean search for "beauty" AND "influencer" OR "blogger". 
I then filtered the results by location to just see LinkedIn members based in Australia. 
Then you can look down through the results and find relevant influencers by exploring their profiles and also by checking them out on the platforms where they say they have influence. Similarly, you could look them up on other tools in this list like Followerwonk. You can also see how many followers they have on LinkedIn, and if you start noting these stats down you can build up a picture of who is influential for your business niche on LinkedIn.
BIG TIP! 
If you are unable to contact them directly because you have no current network connection with them, then you could find them on a different social network (e.g. Twitter) and contact them through that channel. If you can see their profile details (this depends on the users' privacy settings) you can also see what LinkedIn groups they are members of. If you join those groups too, that can be a good place to get on their radar and build a relationship with them. 
Also, use Boolean searches wherever possible, they are sooooo powerful! You can use them on other platforms too. For example, you could enhance your Google Alerts with them! 
PRICING & FEATURES SUMMARY 

Website: 
Industry:
Cost: 
Free version available
Paid versions start at $29.99 per month but pricing varies depending on which country you are accessing the site from
Free Features: 
Create a profile
Search for influencers using a variety of content parameters
Make direct contact with influencers
Find other ways to contact influencers (e.g. through their websites and other social networks)
Usefulness: 
Free version – 4/5
Paid versions – 5/5
---
WHAT DOES IT DO?
NinjaOutreach lite is a Chrome extension that lets you pull up a website's social media stats, SEO metrics, and contact info. The makers of NinjaOutreach has designed this extension to: 
(1) help people find a way to validate the authority, ranking metrics, and engagement of any site, page, or influencer, and 
(2) reach out to them in a faster and more convenient way, using a single tool.
POLKADOT COMMUNICATIONS VERDICT
This extension is really handy and a great timesaver when you're doing some content or influencer prospecting and outreach. For example, you're looking for topics to write about so you click on some articles to draw ideas from. Once you find a web page that catches your eye, you can just click on the chrome extension for some fast background research. 
The extension shows a drop-down where you can easily check the engagement level on the website, the number of followers they have, and their SEO metrics. 
Under the Website Data tab, you can immediately view from the drop-down menu include the domain and page URL, and other basic page info such as page title, meta description, and meta title. 
Note that the upper part of the website owner's picture and the option to add to organised lists is only for Pro users who can integrate the lists with their more comprehensive web accounts. 
Scroll down further and you can also see email addresses, available podcasts, latest articles published, as well as links to the about and resource pages on the site. 
Even further down, you can view the site's average monthly site visits, Alexa rank, Moz rank, backlink profile, number of shares on social, domain, and page authority. 
If you click the Contact tab, you can then send an email directly to the blogger or website owner, and even use some pre-made templates that you can just modify to fit what you need. 
BIG TIP!
Although some design elements could use a bit of a refresh, upgrading to the web app yields a lot of features such as mass email outreach, campaign management, a log of your whole communication history per outreach, automated follow-ups, and organised lists.
You can get a license key from the web app that you can use to activate the pro version of the chrome extension, which opens up more features you can't get from the lite version. You can then sync some settings from the web version to the pro chrome extension, such as your saved lists and notes. You can also export your data points into a spreadsheet as needed.
PRICING AND FEATURES SUMMARY

Website: 
Industry: 
Cost: 
Free version available
Paid versions start at $49.99 per month
Free Features: 
Full Name
Location/Address
Links To Social Pages (Facebook, Twitter, Instagram, LinkedIn, Pinterest, G+, Youtube)
Follower Counts for all social pages
Domain Name
Page URL
Page Title
Links To Key Pages (About, Contact, Resources, Infographics, Podcasts, Interviews, Giveaways, Sponsored Posts, Product Reviews, Guest Posts, Press)
Monetization Techniques (banner ads, email lists)
Meta Description
Email Addresses
Phone Number
Alexa Rank
Average Visits Per Month
Average Comments Per Post
Average Social Shares Per Post
Backlinks
Page Authority
Domain Authority
Page Rank
Moz Rank
Klout Score
Social Shares of page
Usefulness: 
Free version – 4/5
Paid versions – 5/5
---
WHAT DOES IT DO?
Ubersuggest helps you generate keyword ideas for your content marketing strategy and production. It's essentially an amazing free SEO and content marketing tool. 
With Ubersuggest's free keyword tools, you can generate an unlimited number of suggestions for free and take your content creation to the next level while increasing your website's chances of ranking against the competition. 
But what's this got to do with influencers? 
Read on… 
POLKADOT COMMUNICATIONS VERDICT
Well, SEO tools don't just belong to people doing … erm… SEO! 
We can use this tool to find influencers that have basically created their own content hubs away from the usual social media channels. 
I'll give you an example where we imagine that we're a beauty brand in Australia again. 
Firstly, and this is very important, put yourself in the shoes of your target consumer/buyer. Think about what they might Google that would end up relating to people that might influence their buying decision. 
A great place to start is with the challenges they face (pun intended). For example, they might suffer from dry skin, blotchy skin, allergies to certain ingredients, acne, etc. 
When they start searching for help and answers to their questions, they'll probably do so with these challenges in mind. 
They might start off with a broad search term like "skin care tips" – let's check that out: 
First of all, we see the overview for that keyword and it's helpful as a quick check here to notice the "SEARCH VOLUME": 
This is the number of people searching for this search term each month on average over the last 12 months. And in the graph, you can see the search trend for this search term over the last 12-months. 
This helps us to understand if people are searching for this search term and also what the outlook for the search term is. This will vary wildly depending on your industry and how niche your products/services are. 
The example above looks healthy to me, so I'll use it to find some influencers. 
Go to the "Content Ideas Tab": 
Now you can see a list of links to content (web pages and blog posts) and the website domains they are on. I don't know how the tool selects what to show here but I suspect that it's showing us content that has been shared a lot on Facebook and Pinterest, and/or… has gained backlinks. Backlinks are much harder to get than social media shares so where you see a number of backlinks for a URL it's a good indication that the content is very good. 
This list you see before you is essentially a list of influential websites. You should explore theses websites, the content and social media channels to see if it's the kind of content that your target audience would value. If so, add them to your influencer outreach list, particularly if you're looking for Facebook and Pinterest influencers. 
You might find that there are several writers posting content on these sites. If that's the case, start looking up their individual social channels too as you might be able to find several influencers all from a single website. 
Next, find additional influencers by repeating this process by looking at content ideas from other relevant keywords. You could try more niche searches like 'dry skin makeup tips' (a challenge-based search) and also see what other related searches the tool provides in the 'Keyword Ideas' tab: 
BIG TIP!
I mentioned looking at the search trends earlier because it's a good idea to use search terms that are stable over time or trending upwards. You can get a longer-term view by using Google Trends (another free tool) to look at the search terms you're testing out in Ubersuggest. Google trends will also indicate related trending breakout search terms you could try out. 
Also, try using the filters in the content ideas tab in Ubersuggest to find the most shared content on social media or the content with the most backlinks. 
PRICING AND FEATURES SUMMARY

Website: 
Industry: 
Cost: 
Free Features: 
Domain Overview
Top SEO Pages
Keyword Suggestions
Content Ideas
Backlink data
Usefulness: 
Free version – 5/5
Paid versions – n/a
---
WHAT DOES IT DO?
Tweetreach is a twitter analysis tool that part of a suite of tools made by Union Metrics. Union Metrics paid subscriptions provide in-depth analytics on social posts across Twitter, Instagram and Facebook, including reach, engagement, content performance, competitive analysis, and more. You can monitor all the topics and profiles that matter to you. 
The free Tweetreach tool as part of this provides some great overview analysis of twitter hashtags, keywords and twitter accounts/users. 
What they provide is enough to help us find some twitter influencers! Hooray! 
POLKADOT COMMUNICATIONS VERDICT
This is really useful for finding the top twitter influencers. 
Here's how. 
First, you need to create a free Tweetreach account and connect it to your Twitter account. 
Now let's imagine we're a beauty brand again. I'm going to see what the score is for #makeup as that's what I'm selling. 
So there's plenty of tweets with this hashtag. Let's see who's getting the impressions (eyeballs on their tweets) by scrolling down the report to the "All Contributors" section: 
I'd recommend checking out all of the contributors on the lists shown in these results to see if they look appropriate for your brand.
BIG TIP!
Check the influencers you find in Followerwonk and Klear (also in this list) to get further information on their activities and levels of influence. I'd also recommend that you monitor these reports on a regular basis to find more influencers as the results will change regularly. 
Also, if you want to discover good hashtags to analyse take a look at these free tools: 
They'll help you to see trending and related hashtags. They're also great for finding what's popular in different countries which is important because you should find influencers that relate to your target market which could be geographically restricted (e.g. you sell just in Australia). 
PRICING AND FEATURES SUMMARY
Website: 
Industry:
Cost: 
Free version available
Paid versions from $99 per month
Free Features:
Free snapshot reports include:

Limited Twitter-only data

Snapshots will include up to 100 tweets

Summary analytics

Top-level metrics including reach and Tweet activity

7-day snapshot

A static view of only the most recently posted Tweets

Analyse single query

Report on just one query at a time
Usefulness: 
Free version – 4/5
Paid versions – 5/5
---
WHAT DOES IT DO?
Feedly is an RSS feed aggregator. In plain English that means that you use it as a central place to subscribe to the content you are interested in whether they come from the news, blogs, social media posts, RSS feeds, or other sources. 
What's brilliant is that you get to see all of this information one place which saves a lot of time and hassle. 
POLKADOT COMMUNICATIONS VERDICT
Beyond using it as a tool for finding influencers, which we'll look at shortly, this is a great tool for monitoring industry trends, your own brands, competitor brands and the news. It works well on desktop and mobile devices and it's free! It's easy to categorise content too, so it's easy to browse your content subscriptions by the topic/category feeds/folders you've created. 
Here's how to use it for finding influencers using our beauty brand example again. 
Firstly you need to create a free account. 
Once created click 'Add Content to Your Feeds': 
And then start typing in keywords that relate to your brand. In this example I'm going to look for "makeup" again and select the hashtag that Feedly has identified:
Then, on the results drop-down box, I'm going to look at the stats for the content sources provided – number of followers, the relevancy of the content to my search, and the number of articles published per week. Feedly automatically lists the sources by 'Feedly Score' which is basically an order for influence as far as we're concerned. 
Work your way down the list checking out the sources to see if they are influencers that you could add to your outreach list. 
Also, check out the related topics to find more influencers.
BIG TIP!
Cross-reference the influencers you find with other tools on this list! 
For influencers that you want to approach, follow them in Feedly so that you can monitor their activity and look for opportunities to engage with them so that you can get on their radar and nurture relationships with them. 
PRICING AND FEATURES SUMMARY

Website: 
Industry:
Cost: 
Free version available
Paid versions from $6 per month
Free Features: 
Find and follow lots of feeds
Categorise your feeds
Usefulness: 
Free version – 4/5
Paid versions – 5/5
---
WHAT DOES IT DO?
This is a tool that's a lot like Feedly, it's an RSS feed aggregator. So basically, you subscribe to content and view it in one place and you can create a free account to do this. 
POLKADOT COMMUNICATIONS VERDICT
This is a great tool for the same reasons as Feedly. 
How do we find influencers with it though? 
Easy. 
Look up your target category (e.g. "Beauty"): 
And then check out the sites of the top publishers listed to see if they are worth adding to your outreach list: 
BIG TIP!
Explore the publishers you find as you may be able to find multiple influencers on each site. Pay close attention to which influencers are posting the most popular articles and monitor this over time. Use other tools on this list to further verify how influential the influencers you find are. 
PRICING AND FEATURES SUMMARY

Website: 
Industry:
Cost: 
Free Features: 
Subscribe to recommended RSS feeds and other feeds that you find and add into your account
Usefulness: 
---
WHAT DOES IT DO?
Hunter.io is basically an email hunter tool that helps marketers find contact information associated with a domain. The tool can also be used to verify emails (check that email addresses work) and do bulk tasks. 
I'm including it here as a bonus tool not so much as an influencer identification tool, but a tool that will help you to make contact with influencers. 
POLKADOT COMMUNICATIONS VERDICT
Sometimes getting in touch with influencers can be tricky, especially when you're on their owned platforms (like their blogs and websites). Often there are no email addresses or contact details, or even an obvious indication of what social media channels they might be using too. 
That's where this tool can help. 
Let's imagine that I've just created a new PR tool app (I have actually, it's called Story Match) and want to promote it and as part of that I'd like the folks at HubSpot to write about it. If you've never been on the HubSpot blog, you should take a look. It's possibly the most helpful blog for marketers, comms professionals, sales professionals and customer service professionals in the world.
If I go to the HubSpot blog and search for PR I can find this post: The Ultimate Guide to Public Relations in 2019. 
As part of the post, there's a list of PR tools. In my opinion Story Match should be on there! 
I can see that the post has been written by Ali Decker. If I click on here name I can see a link to her own website and her twitter and LinkedIn profiles:
I can go to those channels to read more and possibly make contact with her through those channels too. But I'd like to email her… 
…so I run HubSpot.com through the Hunter.io app and find 675 emails listed! 
Take a look at the results and also look out for some of the results containing social media links and even telephone numbers. Great! 
But I want to find Ali, so I put her name in the "Find Someone" search box and hey presto – there's a 70% chance that this is Ali's email address. 
I can now use this and the other channels to reach out to her. Fingers crossed! 
BIG TIP!
I find this tool particularly useful for finding email addresses for people at larger organisations where they don't list their email addresses on the website. It's a great tool for sales as well as influencer outreach. 
Once you've got an email list you can use the Hunter.io Outreach tool for emailing your influencers (or sales prospects) and include automated follow-up emails. Emails will be tracked and you can see if they're delivered and opened. Awesome! I can't believe this is actually free!* 
*It's free at the time of writing this list…it might not be forever. 
PRICING AND FEATURES SUMMARY

Website: 
Industry: 
Cost: 
Free version available
Paid versions available from 49€ per month
Free Features: 
Usefulness: 
Free version – 4/5
Paid versions – 5/5
Finding Free PR OPPORTUNITIES
This part is all about how to find more of the right PR opportunities for free. It contains one of my best-kept secret methods for spotting PR opportunities in real-time so that you can respond to journalists and bloggers quickly in order to bag the coverage.
So shhh! Don't share this with your competition 😉
The following tools and methods will help you to find PR opportunities. Just so you know, if you really want to get more PR coverage and be given more opportunities to get it, nothing really beats building strong relationships with relevant influencers, journalists and bloggers. When you have these strong relationships, the influencers will often directly seek help from you, perhaps often not even asking anyone else. They will also willingly speak to you over the phone and they will actually read your emails and social media messages.
This might sound tough …. well building strong relationships in order to develop great reputations is hard work. So you need to put a lot of time and effort into doing this if you really want to be successful.
However, the tools and methods outlined below will help you to find PR opportunities and respond to them. From there, you can build your relationships for more effective PR. These tools are a must-have for your PR arsenal.
Hold onto your seat, let's roll!
The free PR tools:
What does it do? 
This tool helps journalists urgently connect with sources. It's a freemium product with an awesome free level of service, which is basically a daily digest email that you never have to pay for. The email contains every single request based on the #journorequest hashtag on Twitter.
Polkadot Communications Verdict 
It's currently UK-focused, but there are international requests, and in the inclusive international digital world in which we live, coverage from overseas can still be extremely useful. After all, the big ticket in PR is gaining social proof from influencers. It often doesn't matter where those influencers are.
The company running this service does have plans to roll this out beyond the UK, so I'd recommend using it right away so that you don't miss out on any opportunities.
The email breaks down requests the requests from journalists made on Twitter into categories, which is great, and you can hit a 'reply on twitter' link to respond quickly.
Take a look at the 'Fashion & Beauty' section of one of the emails:
With the pro version, you can access a variety of useful features, but the free version is still fab.
BIG TIP!
Respond as quickly as you can to the requests, journalists don't hang around!
What does it do?
Hootsuite is a social media management tool. You can link it to your various social media accounts (although not YouTube or Google+ yet) and manage them from a single place. This is, therefore, a great tool for making influencer marketing and PR more efficient and effective. I will cover this in more detail in a later section of the guide.
So what is this tool doing here in this section of the guide?
Ah ha!!!
It's because you can use it in a really clever way to pick-up journalist, blogger and influencer requests – INSTANTLY…For free!
I didn't mention it before JournoRequests.com because this method of using Hootsuite that I'm about to cover relates to the JournoRequests.com hashtag system, and so it gives some background context.
How to set up your Hootsuite journalist request monitoring system
This is my secret sauce method that I'm sure you're not going to tell anyone about…
…well not your competitors anyway.
You need to actually set this system up, rather than just sign-up for alerts, like with the other tools covered in this guide.
Firstly, the basis of this sneaky method is to monitor hashtags associated with influencer, journalist and blogger requests. They are:
#Journorequest
This is used by journalists looking for things like information on a topic, potential case studies, quotes from experts or products to review for articles/posts they are writing.
It's the foundation of the JournoRequests.com service, see the relevance now?
Again, remember that this hashtag currently has a UK focus, but it is expanding.
#PRrequest
This hashtag is very similar to #journorequest as it was created for journalists to source stories etc. Most of the requests on this hashtag are now from bloggers, particularly useful for blogger outreach campaigns and gaining social proof through reviews.
#Bloggerrequest
No surprises here, this hashtag is similar the previous two, but it really is focused on blogger requests.
#HelpAReporter
Help a Reporter Out or HARO, is an online tool for connecting journalists with sources. It's a great tool and I will cover it next in this guide (scroll down to section #3 for more information).
The system post requests from journalists using this hashtag, so we can tap into them here.
#UrgHaro
#UrgHaro is an abbreviation of 'Urgent Help a Reporter Out.'
Tweets with the hashtag #UrgHaro, therefore, indicate that the journalist is looking for a source URGENTLY!
So respond to these requests very quickly if you can.
Secondly, you can monitor only relevant requests to your brand or clients if you combine the hashtags above with topic, industry and product-related hashtags. For example:
Beauty = #beauty
Fashion = #fashion
And you can get more specific within a category like #beauty with a hashtag like #makeup.
You could also use location-based hashtags in combination with all of the above. We work with numerous restaurants and hotels and as part of that, we seek opportunities relating to the physical locations of the business outlets.
So for a restaurant client based in Sydney, we could monitor #restaurant and #sydney.
This hashtag combination monitoring method is very important as it makes it far easier for you to spot relevant opportunities.
BONUS TOOL TIP: Use Hashtagify to find the best relevant hashtags for this monitoring technique and for using in your own social posts.
Now here's how to set this up…
In this screenshot you can see the Hootsuite feeds I have created as an example of monitoring journalist and blogger requests for 'fashion' and 'beauty':
The following steps will help you to do this yourself:
Create free (or paid) Hootsuite account if you don't already have one.
Link your social media accounts to it.
Create a new tab for monitoring PR opportunities by clicking the [+] button in the tabs area. You can see I already have tabs for managing our social networks and MailChimp e-newsletter system (have you subscribed yet?):
Give your new tab a name, I'll type in 'PR OPPS' for this demonstration:
Click the 'Search' button in the stream adding area:
Add your hashtag monitoring combination into the search box. In this example I have added:
#fashion AND #journorequest OR #prrequest OR #Bloggerrequest OR #HelpAReporter OR #UrgHaro
Note that I have used '#fashion AND' at the beginning. This is so that I can see the topic clearly at the top of the feed when it's activated.
The 'AND' part of this ensures that all of the search results for the various journalist requests contain #fashion. This is very important because I just want fashion related requests in this feed.
The 'OR' function allows the search feed to include any of the four different request hashtags, so I get requests from all sources in relation to my fashion topic.
If I wanted to be more specific, I could include additional AND/OR related hashtags.
Hit the 'Search' button and see the feed:
Create additional feeds for different topics, products, industries, locations, etc.
Now you've got a real-time request feed filtered to your business needs, and because it's in Hootsuite, you can respond directly to the requests through Hootsuite. 
Polkadot Communications Verdict
This an awesome method as it allows real-time filtered monitoring of requests (you don't have to wait for the free periodic emails from the other tools mentioned here). It also allows for direct responses through the Hootsuite system.
BIG TIP!
This big tip could actually be applied to all of the tools mentioned in this guide.
Before responding to requests, make sure that the request is worth responding to. Avoid giving expensive products and services away for review to people with no influence who are just fishing for freebies.
You have been warned!
What does it do? 
HARO provides journalists with a robust database of sources for upcoming stories, and daily opportunities for sources to secure valuable media coverage.
You can join the 475,000+ HARO users already using the service to connect with journalists. All you need to do is register for your free account and then check your inbox three times a day (5:35 a.m., 12:35 p.m. and 5:35 p.m. ET), Monday through Friday. Look out for source requests relevant to you or your brand or client's industry, expertise or personal experience.
You can then pitch to the journalist by clicking on the masked HARO email address listed in the source request email. You should include answers to the journalist's questions, any specified requirements and a bio with you or your client's contact information. If the journalist is interested, they'll reach out!
Polkadot Communications Verdict
Great free tool for getting regular journalist requests.
BIG TIP!
When setting up your 'source' account remember to tick the topic boxes that are relevant to your brand or clients so that you get more relevant pre-filtered and grouped requests.
You could also use the request information to create a database of contacts that you could contact directly to build relationships with and pitch stories to at a later date.
What does it do?
This tool does basically the same thing as the other tools, it matches journalists with sources.
Polkadot Communications Verdict
It's a good tool just like the others. Once you've registered you will get a daily email but you can also be more proactive with this tool because you can navigate to the 'requests' section and actually search for relevant keywords (e.g. 'food').
You can then pitch directly through the tool interface very easily.
Also, you can register as a publicist if you want to use this tool to pitch on behalf of your clients. Once registered as a publicist you can then add clients to your profile and pitch on their behalf.
BIG TIP!
Unlike the other tools, you can create a profile for yourself. It's important to do this well because it's sent to the journalists with your pitches. It helps them get a feel for your background, experience and expertise so that they can essentially vet you before responding to your pitch.
So write a compelling bio for yourself, and for each of your clients, if you are a publicist.
Conclusion
With the way today's customers' needs are constantly and rapidly changing, there's no denying the need for public relations. The most successful businesses know how vital PR is to increase their brand awareness, drive sales and boost profits. Businesses savvy enough to invest in PR truly have the upper hand against their competition.
"If I was down to the last dollar of my marketing budget I'd spend it on PR!" – Bill Gates
When you activate your brand with strategic communications, you'll be able to accelerate revenue with PR to grow your business. And when you partner with a communications agency that understands your business growth objectives, you'll get the help you need to implement a successful PR strategy and empower your entire team.
So what are you waiting for? Get started with public relations.